FITTING A WOOD BURNING STOVE IN A CONSERVATORY, EXTENSION, OR OTHER ROOM WITHOUT A TRADITIONAL CHIMNEY.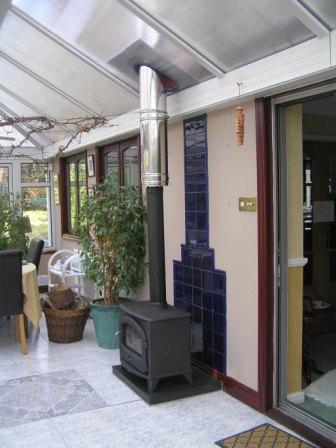 This is a question we seem to be getting asked more and more these days.
The difficulty and expense of heating a conservatory or new extension to any property can be a big problem for people, but here is a beautiful and elegant solution. A wood burning stove.
To begin with, do you really want to extend your existing gas or electric central heating system into your new room, and have a plumber running new hot water pipes through your walls out there to another ugly radiator?
Or worse still, are you considering having an electrician gouging a channel along the wall to run an electrical cable out to run an expensive electric heater of some sort?
Many more people these days are eschewing these ideas and plumping for the warmth and beauty of a real fire in the form of a woodburner or multi fuel burning stove in their homes, so why not in a conservatory or new extension room?

Of course the immediate problem is how do you get rid of the smoke without a hearth and a chimney to stand your stove in?
Well the answer is that it can be done using a special insulated flue called "twin wall" that goes straight out through the roof.
Firstly, you will want to decide on where your stove will be placed in your room, and this is an important decision as not only is it an aesthetic choice for you, it will affect where and how your flue will have to go through the roof and how you deal with the flue once it it exits through the roof.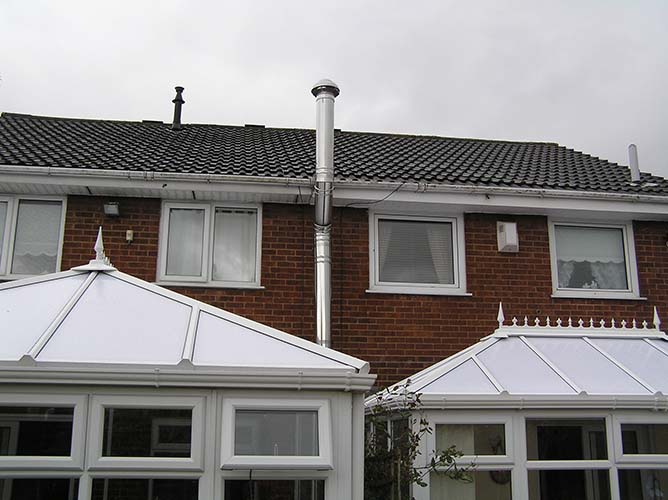 Remember that once the flue has gone up through the roof, depending on height, it may need to be secured to prevent it being blown over in strong winds.
This means that if you site your stove close to the outside wall of you house, you will be required by building regulations to take the flue all the way up to 1 metre above gutter height securing it to the outside wall of your property all the way up with pipe clips (As in the photo). This obviously requires a much longer length of twin wall flue and adds to the cost.
However, if you can situate your stove at least 2.3 metres away from the outside wall of your house, you only need to take the flue up by 1 metre above the roof of your conservatory, which obviously makes the job much cheaper and easier.
Also at this point you should consider on what your stove willl be standing.If you have a lovely wood floor and stand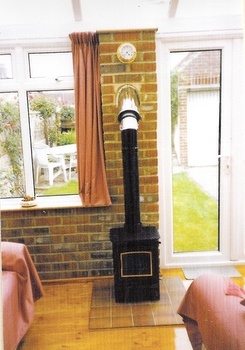 a stove directly on it, you can rest assured that over time it will become discoloured and damaged by the heat it conducts from the stove legs.
Most people would therefore put down a base of some sort. Tiles or stone would do the job and be an attractive feature (as in the picture on the right), but pretty much anything with low heat conductivity and stable enough to support the weight of the stove will be fine.
Next you have to consider the size of the room and choose a stove with a Kw rating of the appropriate size so you don't over or under heat it. If you need help with this use our handy Kw calculator
You may then need the assistance of a good builder or stove installer to help you set up the stove and flue pipe arrangement.
Of course if you are a keen DIY enthusiast, there is nothing to stop you doing it yourself.
A quick and relatively simple way is to use the conventional steel/stainless steel  flue pipe for the first sections coming out of the top (or rear) of your stove.
This flue pipe will be visible in the room, so it is important to choose flue pipe you like the look of – whether it will be shiny chrome or a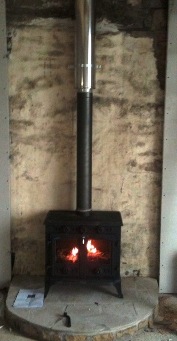 matt grey to match the stove colour – as in the photo on the left.
This length of flue pipe will also have an added heating bonus as it will radiate more heat into the room as the flue heats up when the fire in the stove gets up to temperature.
As the flue reaches the ceiling height of your conservatory or extension room, you will need to change to twin wall insulated pipe, using an adaptor.
You can clearly see the join in the picture on the left where it changes colour.
In this example the twin wall flue pipe is starting lower down than ceiling height because this enables a false chimney breast to be formed from 3×2 timber and covered with plasterboard.
This allows you to make a nice decorative feature of the stove in a new extension to a property but is not always quite so suitable in a conservatory where you will probably need to go straight up to the ceiling with standard flue pipe and then switch to twin wall flue to finish the job.
If this is a single storey extension you will also need to place a fire guard around any wooden joists in the roof void and continue out through the roof using the twin walled pipe, use a  flashing kit to seal the external roof and then finish with a suitable cowl with a rain cover and bird guard.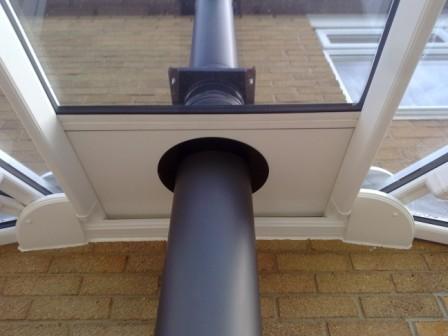 If this was a typical conservatory flue install, your installer would simply cut a suitable sized hole in one of the conservatory roof panels, using a jig saw.
Some people get a single replacement conservatory roof panel made witha pre-cut hole- as in the photo on the right.
Then, you run the twin wall flue out through the hole and connect it up outside and inside.
We sell a choice of twin wall flue systems – including in black powder coated finish if you would rather not have a silver coloured stainless steel chimney flue.
Next, you would then seal the point where the flue passes through the roof using a special EPDM "flashing kit"  to prevent both water ingress and any possible heat loss.

These are fitted by pushing the twin wall flue through the rubber seal (which you cut to match the exterior size of your twin wall flue) and then securing the base plate to conservatory roof with nuts and bolts and/or a "no more nails" type adhesive, which is then finished off with a weather resistant silicone sealant to ensure a watertight seal.
The flashing often comes attached to a square or rectangular aluminium plate that provides a nice clean looking finish also makes it easier to secure into position.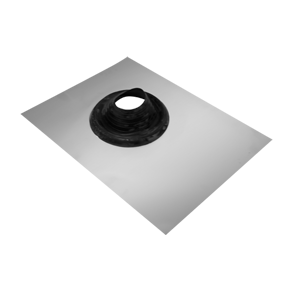 You can see this type of installation clearly on the picture right at the top of this article and on the left, the picture shows how an exterior flashing kit can provide a water tight seal on even a tricky corrugated roof.
This method can be used on most single storey flat or pitched roof buildings – even if they are tiled.
Typically the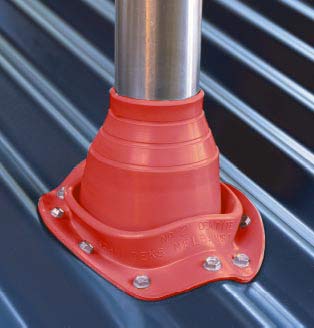 flashing kit is sealed to the roof surface using a weather resistant silicone sealant to fill even the tiniest gaps.It also provides some additional support and stability to the twin wall flue assembly.
Finally you would need to add a rain cap on top of your flue to prevent water getting inside your flue and down into the stove.
What you can end up with is a beautiful wood burning stove that looks something like the picture right at the top of this article, with a single flue pipe coming from the top and a roaring fire to enjoy on those long winter nights ahead.
After all, you didn't add a conservatory or extension to your house to only use in the summer months did you?
The total cost of an installation like this can be considerably less than extending your central heating sysytem and the savings on fuel costs in the future make the prospect even more attractive.
WE OFFER A COMPLETE STOVE AND CONSERVATORY INSTALLATION KIT FROM JUST £749!
Just pick your stove and then give us a call with your conservatory installation height requirements
TO BEGIN LOOKING AT OUR TRADITIONAL STOVES CLICK HERE
TO BEGIN LOOKING AT OUR MODERN STOVES CLICK HERE